Ependymoma Awareness Day 2021

Patients, care partners and medical professionals from around the world dedicate May 10, 2021 as the tenth annual Ependymoma Awareness Day!
Ependymoma Awareness Day
Join the CERN Foundation and the National Brain Tumor Society during Brain Tumor Awareness Month to commemorate the 2021 Ependymoma Awareness Day! This year Ependymoma Awareness Day will be held on May 10 to represent the 10 different molecular groups of ependymoma. Held every year since 2012 as global advocacy event, Ependymoma Awareness Day highlights the importance of an accurate diagnosis and the urgent need for better targeted treatments.
Ependymoma Awareness Day (EAD) was established in 2012 by the CERN Foundation as part of a global effort to shine a light on this poorly understood disease. Our goal with Ependymoma Awareness Day is to increase public recognition of this rare tumor and the urgent need for more clinical studies to improve diagnostic methods, develop better targeted treatments and improve outcomes for those living with this disease. View the 2020 Ependymoma Awareness Day for more ideas and read the full 2021 Ependymoma Awareness Day Outreach Report.
Ependymoma is a heterogeneous disease, meaning there is great diversity within the disease. We know about these differences because of the extensive work that has been done in molecular classification by an international group of collaborative scientists. Molecular analysis allows us to look inside a cell to identify important DNA or RNA changes and markers. The classification of molecular groups and subtypes for ependymoma is constantly evolving. Today, 10 different major types (molecular groups) of ependymoma are recognized and are distinguished according to location, pathology, and distinct molecular features. Understanding these important molecular differences will help guide future clinical protocols designed to identify targeted therapies. To learn more about molecular diagnostics watch the c-IMPACT NOW Educational Event.
CERN has been a significant contributor of the scientific research efforts that lead to the discovery of the ependymoma groups.
Butterfly Release
On Ependymoma Awareness Day, butterflies around the world are released to honor loved ones with ependymoma, recognize care partners and medical workers, and to support ependymoma research efforts. The delicate and beautiful butterfly was chosen to represent the spirit of the ependymoma community as a symbol of hope through change. Read more for ways to get involved on May 10 for Ependymoma Awareness Day! "The butterfly was chosen as a symbol to represent hope. Just as a butterfly dramatically changes its shape, so does the meaning of hope along this journey. Hope is something that I am guessing everyone here has been forced to cling to in our greatest moments of despair. Ependymoma survivor Maise said it best: HOPE is Holding On for Possibilities that are Extraordinary." Kimberly Wallgren, Executive Director of the CERN Foundation, a program of the National Brain Tumor Society.
The CERN Foundation, a program of the National Brain Tumor Society, commemorated the 2021 Ependymoma Awareness Day event with a virtual program that included educational and awareness content from CERN Advisors and Members, historical clips from previous EAD events, key issues from the ependymoma community, and concluded with a butterfly release. Thousands of people from all over the world viewed and shared the virtual program in an effort to raise awareness about ependymoma. Feedback from the community included:
"I watched and thought - if only THIS is what people would see when they Google 'ependymoma'!!! Such great information!" Beth
"Thank you for such a lovely event. I was in tears throughout the whole thing - just beautiful." Patti
"My heart was in my throat through the entire event. To see doctors and medical researchers around the world studying ependymoma to better understand it and to look at new therapeutic directions is a huge boost to our hope. Thank you for everything you do – I cannot underscore how fundamentally important it is to our family." Rachel
The first three educational videos feature previous CERN Fellowship Recipients, a prestigious award given to young investigators to conduct ependymoma research and encourage an interest in ependymoma work. Robert Connor Dawes Foundation is a prominent partner in the fellowship program.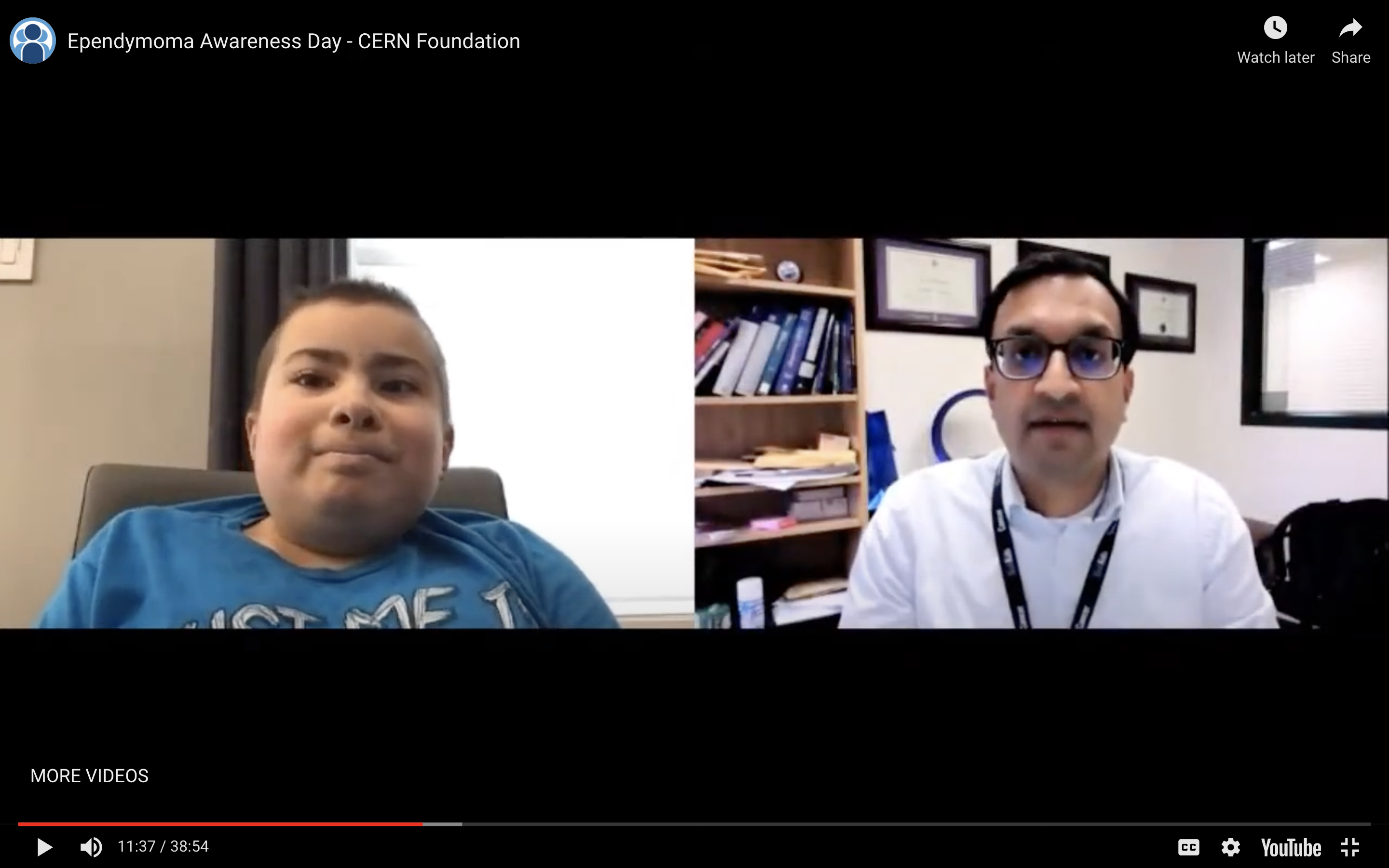 Title: Kids Interview Dr. Vijay - What is Ependymoma?
About: An interview hosted by ependymoma survivors with Dr. Vijay Ramaswamy, 2016 CERN Scientific Fellowship Recipient, from SickKids in Toronto, Canada gives an overview of the rare disease with a personal touch.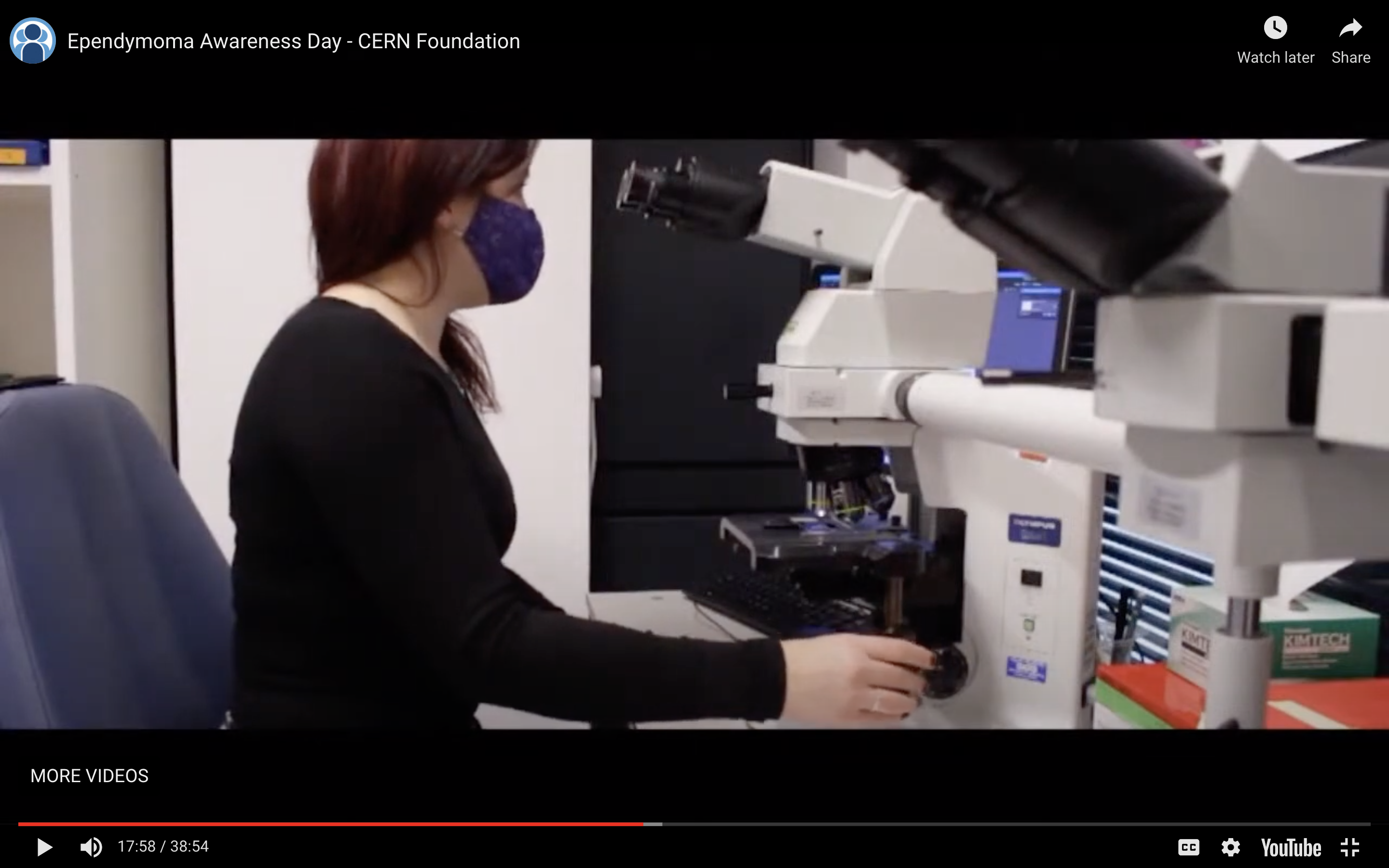 Title: Behind-the-Scenes Ependymoma Lab Tour
About: Join Dr. Claire King, 2018 CERN Robert Connor Dawes Pediatric Fellowship Recipient on a behind the scenes tour of the Gilbertson Group lab at Cambridge and learn about the intricate work of performing molecular diagnostics for ependymoma.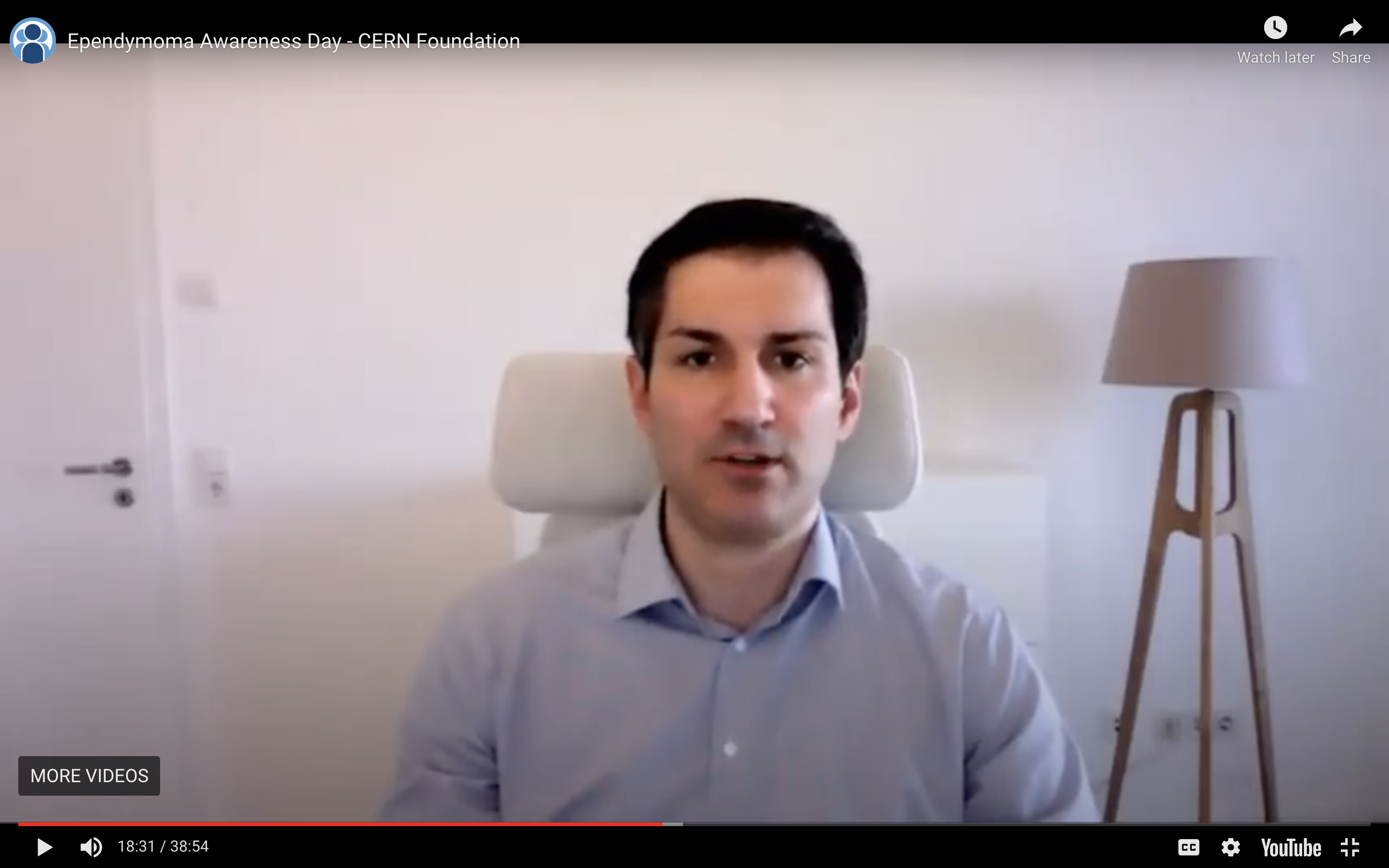 Title: Ependymoma Molecular Groups Explained
About: Dr. Kristian Pajtler, 2018 CERN Scientific Fellowship Recipient, from KiTZ Hopp Children's Cancer Center in Heidelberg, Germany, gives a patient friendly presentation on the recent advancements made on the ependymoma molecular groups and why this is important to the ependymoma community.
Watch the entire program here.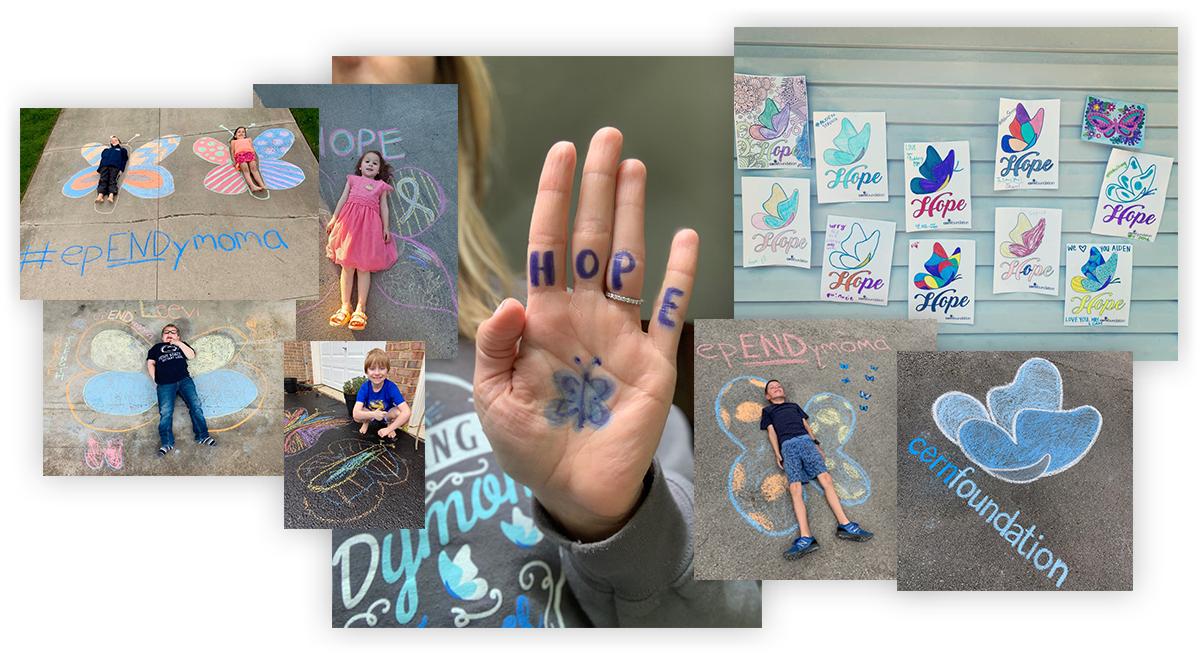 Toolkit
Let Us Hear From You!
We would love to hear from you! Please feel free to share your experiences with us and submit information and pictures of your own activities so that we may include them in future events on our website, giving inspiration and direction to others as they get involved in Ependymoma Awareness Day! Read the full 2021 Ependymoma Awareness Day Outreach Report for more information.